Club News
New Staff Member... Say Hello To Tim!
---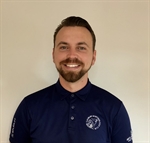 You may have already met him, but everyone say hello to Tim!
Tim will be working full time at CMGC in the professional shop and operations area.

Tim is a keen golfer playing off 5 and will also be making CMGC his home club. Tim has previously been a member of Bridgnorth Golf Club and has had previous experience working at Wharton Park Golf Club. Tim has interests in downhill mountain biking and cars/motorsport. Tim's what's in the bag consists of Mizuno st-180 driver and 3 wood, Callaway apex ut 2 iron, Mizuno Mp-62 cut muscle irons, Vokey SM7 wedges, PING Scottsdale Crazy-e Putter.

CMGC's director of golf Dave Pain had this to say on the appointment
'We are delighted to have Tim joining the CMGC, we felt that it was important to have someone with not only golf playing experience but also golf knowledge having worked already in the sector. He is very keen to get stuck in and will be a valuable asset to the small tight-knit team we have. If you see him, please say hello and give him a good CMGC welcome'.